Hoeveel zout is ok?
Een studie uit 2014 geeft aan dat de Belgen gemiddeld 9,5 gram per dag innemen.  In 2009 was dit zelf nog een gemiddelde zoutinname van 10,5 gram per dag.  Een daling van 1 gram is al een stap in de goede richting maar 9,5 gram per dag zout is nog steeds te hoog te noemen.  Voor volwassenen wordt er aangeraden om per dag niet meer dan 6 gram zout te consumeren.  6 gram zout is gelijk aan 1 koffielepel  (1 eetlepel zout is ca. 10 g).
Van het zout dat je op een dag binnenkrijgt, komt gemiddeld slechts 20% uit het zoutvaatje.  De overige 80% is terug te vinden in heel wat voedingsmiddelen die je koopt.  Zo zit er veel zout in kant-en-klare producten als pizza's, pakjes en zakjes, soepen,  sauzen, vleeswaren.  Ook brood bevat aardig wat zout.
Zout bestaat voor 40% uit het mineraal natrium.  Met andere woorden: van de koffielepel (6g) zout is 2,4 gram natrium.   Het is dit natrium dat nadelig is voor de gezondheid.  Het zorgt voor een hoge bloeddruk en een groter risico op hart- en vaatziekten.    Zeezout, Keltisch zout, Himalayazout, gejodeerd zout… zijn allemaal zoutsoorten, die evenveel natrium bevatten als gewoon keukenzout.  Deze bieden dus geen voordelen.  Er bestaan zouten op basis van kalium of ammonium en kunnen eventueel gebruikt worden voor die personen die het zout absoluut niet kunnen missen.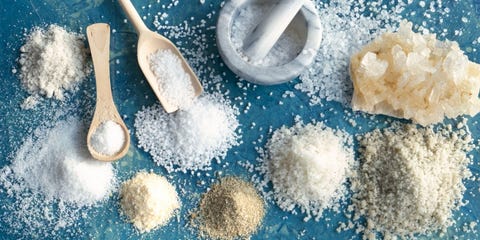 Je zoutinname kan je drastisch verlagen door een bewustere keuze te maken in jouw voeding.
Kies liever niet voor gerookte en sterk gezouten vleeswaren zoals filet de Saxe, gerookte ham, salami of bacon.  Ook gerookte zalm en maatjes zijn zoutrijk.  Zelf de meeste kazen bevatten vrij veel zout.  Ook groente-vis-en vleesconserven zijn een bron van zout.   Kies daarom steeds voor verse groenten of onbereide diepvriesgroenten.
Door volledig zelf de maaltijd te bereiden en dus niet te kiezen voor kant-en klare maaltijden én zonder toevoeging van zout kan je het zoutgehalte sterk beperken.  Bak ook je eigen brood.
Bouillonblokjes zijn echte 'zoutbommen'.  Eén bouillonblokje bevat 4 à 5 gram zout!  Kies daarom voor een zoutarm bouillonblokje of gebruik in de plaats van zout en bouillonblokjes misschien eens wat meer verse kruiden.  Kruidenmixen in potjes bevatten doorgaans ook veel zout.
En let op met sojasaus, oestersaus en vissaus.
Gerookte zalm bevat 3 gram zout per 100 gram.
Gekookte ham bevat ongeveer 2 gram zout per 100 gram en gerookte ham ongeveer 5 gram.
Rauwe zalm: 0,1 gram
Worst van gevogelte: 0,8 gram
Kip zonder vel: 0,2 gram
Tofu: 0 gram
Onbereide quorn: 1,2 gram
Gouda kaas: 1,9 gram
Magere smeerkaas: 2,3 gram
Magere platte kaas: 0,2 gram
Wortelen uit blik: 0,5 gram
Gekookte wortelen zonder toevoeging van zout: 0,1 gram
Volkoren brood: 1 gram
Havermout: 0 gram
Kopje instantsoep:  1,53 gram
Kom groentesoep gemaakt van een pakje (1,97 gram): 6 gram
Klein schaaltje chips:  6 gram zout
Kant-en-klare rijstmaaltijd met kipkerrie:  4,03 gram
Toast met ham en kaas met een eetlepel ketchup: 1,73 gram
Pizza salami: 6,01 gram
3 stokjes varkenssaté met saus: 6,55 gram zout
Bord lasagne met vlees en saus: 6,19 gram zout
Glas tomatengroentesap:  2,28 gram
Chinese loempia: 2,16 gram
2 opscheplepels groente met witte saus met zout: 6,27 gram zout
2 opscheplepels spinazie à la crème: 1 gram
1 gerookte makreel: 6,49 gram zout
4 bitterballen: 6,03 gram