Dertien recente inzichten over gezond leven en afvallen. Nummer 10 en 11 voor u toegelicht.
Gezondheid krijgt vaker de aandacht die ze verdient en dat stemt me gelukkig!
Toch is er nog een hele weg af te leggen.
Op 18 november 2020 publiceerde De Morgen een artikel waarbij er 13 inzichten werden geschetst over gezond leven.  Voor de rest van 2020 geef ik elke week 2 inzichten mee waarbij ik telkens mijn eigen mening geef (staat in het cursief).  Dat is één van de diverse manieren waarbij ik het verschil wil maken om mensen te helpen zich weer goed te voelen in hun vel en hen gezond(er) te maken.
De voorbije weken schetste ik reeds 9 van de 13 inzichten.  Deze week wordt nummer 10 en 11 voor u uit de doeken gedaan. Ik ben overtuigd dat ook jij er iets aan hebt!
Met als bonus: op het einde van de rit geef ik u mijn 12 geboden mee.
Daarmee wordt 2021 wederom een jaar vol goede voornemens, maar je doet dit niet alleen.  Ik zal je hierbij helpen: elke maand van 2021 licht ik één goed voornemen toe.  Zo wordt het voor jou doenbaar om er mee aan de slag te gaan.
Veel leesplezier!
De oplossing om af te vallen schuilt niet in sporten: 13 recente inzichten over gezond leven en afvallen
10. Emo-eten is niet per se een ziekte
Tijdens een stressvolle bloknacht een zak chips wegkauwen of jezelf na een relatiebreuk op het roomijs storten. We verliezen onszelf allemaal weleens in emo-eten. Wie na een moeilijke dag op het werk een pizza bestelt, moet nog niet meteen denken dat hij een verstoorde relatie met eten heeft.
Psychologe en personal trainer Gudrun Hespel: "Er is ons jarenlang ingeprent dat het iets slechts is, dat we daarmee moeten stoppen, terwijl het zowel biologisch als psychologisch een doodnormale reflex is."
Maar wanneer je geen andere copingmechanismen meer hanteert, wanneer je telkens letterlijk je gevoelens weg eet en jezelf verdooft met suiker en vet, dan kan het wél problematisch worden.
Ik ben geen psychologe dus kan geen uitspraken doen over emo-eten.
Het enige wat ik met mijn kennis en expertise met jullie kan delen is dat
te lang teveel suiker, teveel slecht vet ervoor zorgt
dat je je lichaam niet voedt zoals het moet
en dus je lichaam richting ziekte duwt.
Trouwens alles met te is niet goed, behalve tevreden 😉
Waar ik wel veel over kan vertellen, is over het volgende puntje:
11. Je darmen zijn belangrijker dan ooit
Lange tijd waren onze darmen onontgonnen gebied. Een negen meter lang orgaan waarin niemand echt geïnteresseerd was. Ons darmstelsel doet echter veel meer dan alleen maar eten verteren. Het huisvest bacteriën die ons volledige welzijn beïnvloeden. Je houdt die collectie micro-organismen dus maar beter in topconditie. Maar wat ís een gezond microbioom en hoe maak je het goed?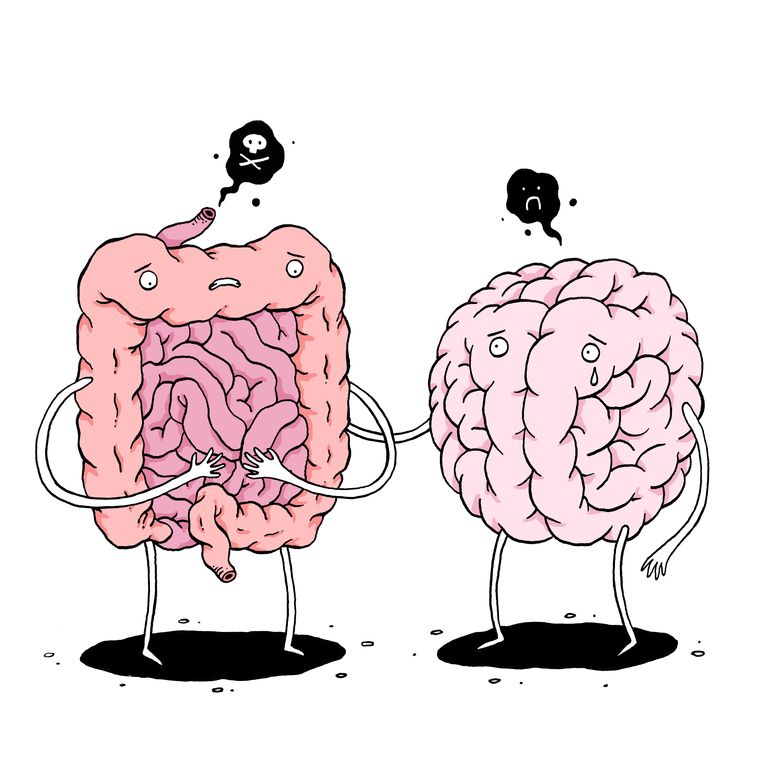 Zoals hierboven aangehaald is een goed microbioom effectief van belang bij de vertering van bepaalde voedingsstoffen.  Afhankelijk van de samenstelling van het voedsel duurt de vertering bij mannen 16 tot 24 uur, en bij vrouwen ongeveer 36 uur.
Maar naast het verteren van voeding heeft ons maag-darmkanaal ook nog andere belangrijke rollen: zo beschermt het ons met het microbioom en het common mucosal immune system (CMIS= het immuunsysteem in de slijmvliezen van de darm) tegen allerlei ziekteverwekkers.  Het darmslijmvlies vormt de daadwerkelijke barrière en bepaalt wat wel/niet 'naar binnen' in de bloedbaan mag.  Het is uiteraard de bedoeling dat de darm-bloedbarrière alleen de voedingsstoffen door deze 'afbakening' naar binnen transporteert en ongewenste stoffen (denk aan virussen, bacteriën en zware metalen) buiten houdt.
Voeding, stress, antibiotica, de wijze van geboorte, medicatie etc. kunnen het microbioom echter zodanig beïnvloeden dat deze doorlaatbaar wordt voor pathogenen.  Als dat het geval is dan kan dit de basis vormen voor vele chronische ziekten.  Het sluiten van de darm-bloedbarrière is in ieder geval een essentiële stap in de behandeling.
Daarnaast is er, zoals ook de illustratie laat uitschijnen, via de darm-hersenas een rechtstreekse communicatie met de hersenen.  Bij ontstekingen, allergieën en microbiologische overgroei (SIBO) in de darmen worden signalen naar de hersenen gezonden.  In de hersenen ontstaan er zelf ontstekingsreacties (oftewel neuro-inflammatie) die op hun beurt signalen uitsturen naar hersenen en andere organen.  Depressie, dementie, of andere hersenziektes zijn dus in wezen ontstekingsreacties van de darm.
Evolutionair gezien moesten we aan kilometers darmen inboeten tegenover enkele meters op heden en tegenover grotere hersenen nu.  De reden hiervoor is omdat we van louter plantaardige voeding zijn overgeschakeld op dierlijke voeding waarbij voornamelijk vis, schaal-en schelpdieren op het menu kwamen te staan.    Deze zijn een belangrijke bron van goede vetzuren waar onze hersenen verlekkerd op zijn.
Onverteerbare koolhydraten, ofwel voedingsvezels, vervullen veel belangrijke taken binnen de spijsvertering; zo zijn ze oa. een belangrijke voedingsbron voor de micro-organismen in de darm.  Deze micro-organismen of bacteriën, zoals de bidobacteriën, hebben een belangrijke rol bij de ontgiftingscapaciteit van de darm, de lever en de nieren.  Daarnaast ontstaan er bepaalde stoffen die korte keten vetzuren doen ontstaan en dit is nu net een goede voedselbron voor de hersenen.
Het spijsverteringsstelsel wordt binnen de therapeutische praktijk dan ook beschouwd als een van de belangrijkste orgaansystemen van het menselijk lichaam.  Therapieën die verstoringen in de spijsvertering, het microbioom en darmbarrière aanpakken, helpen dan ook vaak om iemand weer gezond te krijgen.
Ofwel: een goede gezondheid begint in onze darmen.
Dit gezegd zijnde: tot volgende week!