De voedingsdriehoek
Wanneer het allemaal begon: anno 1986.
Evoluties op wetenschappelijk én maatschappelijk vlak vormden de aanleiding voor een grondige herziening van de bestaande actieve voedingsdriehoek.  De bestaande driehoek was vooral bedoeld als educatieve tool voor gezondheidsprofessionals, maar voor de consument bood hij zonder bijkomende uitleg echter te weinig houvast en zette te weinig aan tot concrete acties.
Zo eventjes 30 jaar later zijn onze voedingsgewoonten nog verre van ideaal.  We eten nog te weinig groenten en fruit en andere vezelrijke voedingsmiddelen.  De gemiddelde Vlaming eet te veel overbodige producten (restgroep) en ook onze vleesconsumptie ligt nog te hoog.  Toch is de consument op vandaag meer geïnteresseerd in voeding en zich meer bewust van het belang ervan voor de gezondheid.
Al deze vaststellingen en evoluties zorgden voor een opvolger van de actieve voedingsdriehoek.  De voedingsmiddelen staan niet langer gerangschikt volgens de voedingsstoffen die ze aanbrengen, zoals eiwitten, koolhydraten en vetten maar wel volgens hun effect op onze gezondheid. Een omgekeerde driehoek (!) waarbij de basis nu breed uitgesmeerd 'on top' staat: een blauwe zone dat water voorstelt. Water drinken is belangrijk om de vochtbalans in stand te houden. Dit kan afgewisseld worden met verse soep, thee en koffie.
Er is een transitie naar een meer plantaardig voedingspatroon aangevuld met een matige consumptie van dierlijke producten;  groenten en fruit krijgen toppositie, samen met volle granen, peulvruchten, noten en plantaardige olie (donkergroene zone). Een handje vol noten is een goed en gezond tussendoortje en ook peulvruchten bieden tal van voordelen. Bovendien doen ze de suikerspiegel slechts langzaam stijgen.
Vervolgens kunnen de producten uit de donkergroene zone aangevuld worden met een beperkt aantal producten van dierlijke afkomst uit de lichtgroene zone: vis, gevogelte, zuivel (kaas en yoghurt) en eieren. Rood en bewerkt vlees krijgen een minder bedeelde plaats en komen in het oranje te staan. De producten in de oranje zone zijn producten die een ongunstig effect op ons lichaam hebben.  Ook boter bijvoorbeeld, alsook kokos-en palmolie (lijkt plantaardig en dus in de groene zone te zitten, maar is het niet!) en andere vetstoffen rijk aan verzadigde vetten.
Salami en filet de sax worden bijvoorbeeld als ultrabewerkt en onnodig beschouwd, en staan zelfs niet meer in de driehoek maar in een rode bol daarbuiten. Daarin staan ook frisdrank, alcohol en andere overbodige producten waaraan zout, suikers of vet toegevoegd zijn: snoep, chocolade, gebak en koeken.  
Hoe minder bewerkt, hoe beter. Neem dus beter een stuk fruit dan fruitsap en eerder een volkoren brood dan een wit brood. Het bevat bovendien meer vezels wat voor personen met diabetes ook mooi meegenomen is: de glycemische index is hierdoor lager.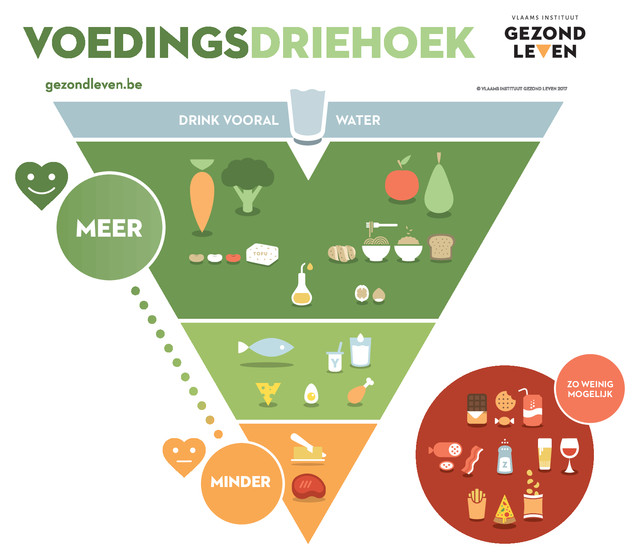 Voeding en beweging werden in de oude driehoek samengenomen.  Nu is er ook een bewegingsdriehoek.  Die problematiseert onder andere het sedentaire leven of het lange stilzitten.  Daarnaast moet de driehoek duidelijk maken hoe vaak je aan een bepaalde intensiteit moet bewegen:
Licht intensief bewegen moet je dagelijks doen: denk aan de trap nemen in plaats van de lift.
Matig intensief bewegen kan door 's avonds een stevige wandeling te maken.
Wekelijks zou je ook minstens één keer aan ene hoge intensiviteit moeten bewegen. Lees: joggen of sporten in   clubverband.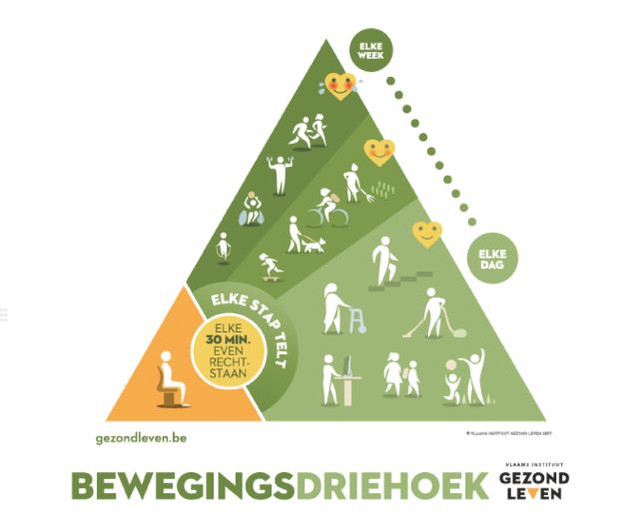 Voor nog meer uitleg verwijs ik u door naar de website van het VIGeZ, het Vlaams Instituut Gezond Leven of naar dit filmpje :